Cooperatives and Membership
What is an electric cooperative?
Electric cooperatives are not-for-profit businesses that are founded, owned, and governed by local members like yourself. There are electric co-ops in rural communities throughout the country, but no two co-ops are alike because each is shaped by the individual communities that built them. Sussex Rural Electric Cooperative is the only electric cooperative in New Jersey and the most technologically advanced electric utility in the state. 
Electric Cooperative Statistics 

There are currently over 900 electric cooperatives in the United States. These co-ops serve:
42 million people across 47 states
19 million businesses, homes, schools, churches, farms, irrigation systems, and other establishments in 2,500 of 3,141 counties in the U.S. (88% of the nation's counties!)
12% of the nation's population
56% of the nation's landmass
An average of 8 customers per mile of electric line compared to the average 32 customers per mile that Investor Owned Utilities serve
To perform their mission, electric cooperatives:
Own assets worth $92 billion
Own and maintain 2.4 million miles, or 43%, of the nation's electric distribution lines, covering three quarters of the nation's landmass
Deliver 10% of the total kilowatt hours sold in the U.S. each year
Generate nearly 5% of the total electricity produced in the U.S. each year
Employ 65,000 people in the United States
Pat more than $1 billion in state and local taxes
The National Rural Electric Cooperative Association (NRECA) represents the national interests of cooperative electric utilities. NRECA provides legislative, legal, and regulatory services, and programs in insurance, management and employee education, training, consulting, public relations, and advertising. NRECA and its member cooperatives also support energy and environmental research and administer a program of technical advice and assistance in developing countries around the world through its partner organization NRECA International.
Why do you call your customers "members?"
Cooperatives like Sussex Rural Electric operate under a different business model than traditional Investor Owned Utilities and other businesses. Electric co-ops were first established in the 1930s to bring electric power to rural areas which large electric companies ignored because they saw no opportunity for profit. To fir this need, electric cooperative were organized by individuals within these communities and set up as nonprofit organizations without investors to please or profit margins to meet. Instead, electric cooperatives focus on satisfying the needs of those in their community.
You are a member-owner of your co-op because your payments are what keeps the co-op running, you have democratic influence over the Co-op through your right to vote and run in our elections for our board of directors, and you are refunded excess revenue in proportion to what you paid into the Co-op during a given year (see the capital credits question below).
While we charge for the cost of service and must implement fees that allow us to maintain our equipment and facilities, this is different from the traditional relationship between Investor Owned Utilities and their customers because we do not seek to make a profit, only to ensure our members continue to receive the highest quality of service at the lowest possible price.
To learn more about what Co-op membership means, check out our Membership Information page.
Accounts and Billing
How do I sign up for service? How can I cancel?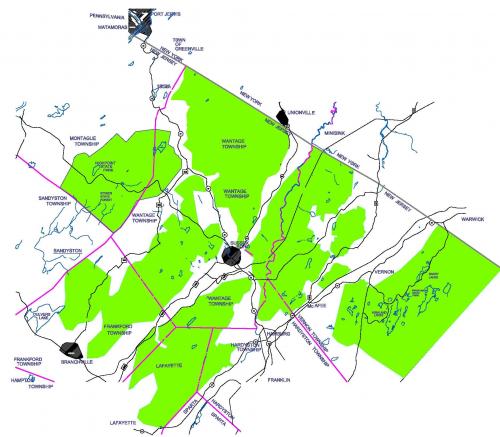 Sussex Rural Electric provides power to homes and businesses in portions of Augusta, Barry Lakes, Frankford Township, Hardyston, Highland Lakes, Lafayette, Vernon, and Wantage, as well as a small portion of Orange County, NY. When you move into our service territory, you must sign up for service with us to receive power.
Signing up for service is simple and easy. It can be done in one of four ways:
You may apply online here
You can come to Sussex REC's office
You may call our office at 973-875-5101 and request to receive an application by mail
You may download an application here
Upon completion of the form, you can bring it by the office or mail it to us. If you submit your application by mail, you must return the application with all of your deposit and membership fees before your service can be connected. A signed Right-of-Way may also be required.
A $5 membership fee is required for new members of the Cooperative, the same amount our original members paid to opt in to service in the 1930s. The need for any other form of deposit is determined on a case-by-case basis using a nationwide, utility-oriented third party service that advises us with recommendations based on data from financial and other institutions.
If you are moving out of our service territory or must cancel your service for any other reason, you may call our office at 973-875-5101 and request cancellation. Alternatively, you can access an online disconnect form here. Information on further steps to terminating service can be found on our Moving Out page.
How do I add or delete a name on my account?
An account can have up to two names on it. Names can be added or removed when both parties fill out a form (for the name addition form, click here, and the name removal form, click here). Once filled out, this form should be brought to our office to be processed. To have a name removed, the account in question must have a zero balance.
If you want to transfer ownership of the account to another name, you must call our office and arrange to pay $5 as a membership fee to open a new account. The original $5 membership paid at the start of service will be refunded to the original account holder.
What are my payment options for my bill?
You can choose to pay your bill in several ways:
Online payment - one time or recurring, only by connecting bank account, not by credit card
Dropping off a check or cash at our office's front counter - 64 County Route 639, Sussex, NJ 07461 (Mon-Fri, 8:00 AM - 4:30 PM)
Using our office's dropbox for secure payments after hours
Visa, MasterCard, or Discover via phone/online; (NOTE: your credit company will charge a $4.25 convenience fee) members can also pay by check over the phone
What is the System Connection Fee?
The System Connection Fee is a fixed rate on your monthly bill used by the Co-op to cover the expenses of maintaining the best possible quality of electric service by investing in improvements to our equipment and infrastructure. Quite literally, it is the fee each member pays to maintain a reliable connection to our system. Every member pays the same amount each month, regardless of kWh (kilowatt hour) use. This fee covers costs that would exist regardless of whether each member used 100 or 1,000 kWh for the month, so the Cooperative charges everyone equally to ensure power can keep flowing reliably through the community.
Below are examples of expense items covered by the System Connection Fee:
Wire, transformers, utility poles, other equipment, and labor needed to build and maintain our electric distribution system
Keeping pace with increased system investments to improve both capacity and reliability
Implementing new technologies to provide increase reliability and operational efficiencies such as the outage management system and advanced metering
Liability insurance, interest, taxes, and emergency storm restoration
Outage restoration costs
For more information on this and other charges, view this graphic, or visit the Rates and Fees page and the Understanding Your Bill page.
Why did I get a check in the mail? What are "capital credits?"
Our members can think of capital credits as their "refund" for paying into the operation of their Co-op. Because Sussex Rural Electric Cooperative is a not-for-profit company, members' electric bills go towards the purchase of electricity for distribution and covering the costs of operation. Surplus revenue beyond this is saved for emergencies and reinvested into the Co-op's operations, but every individual member's contribution to this surplus is tracked carefully. The board of directors eventually votes on when it's feasible to "retire" these funds for individual years of service, sending members back their share of money based on what they contributed that year in the form of capital credits.
Because capital credits are tracked and delivered by year, it is important for our members to provide us with a new address if they move out of our service territory so we can continue to send members checked when funds are retired for years they lived on our lines. Capital credits are not necessarily retired on a yearly basis. For more information on exactly how capital credits work, visit our Capital Credits page.
Service Details
Where does my power come from?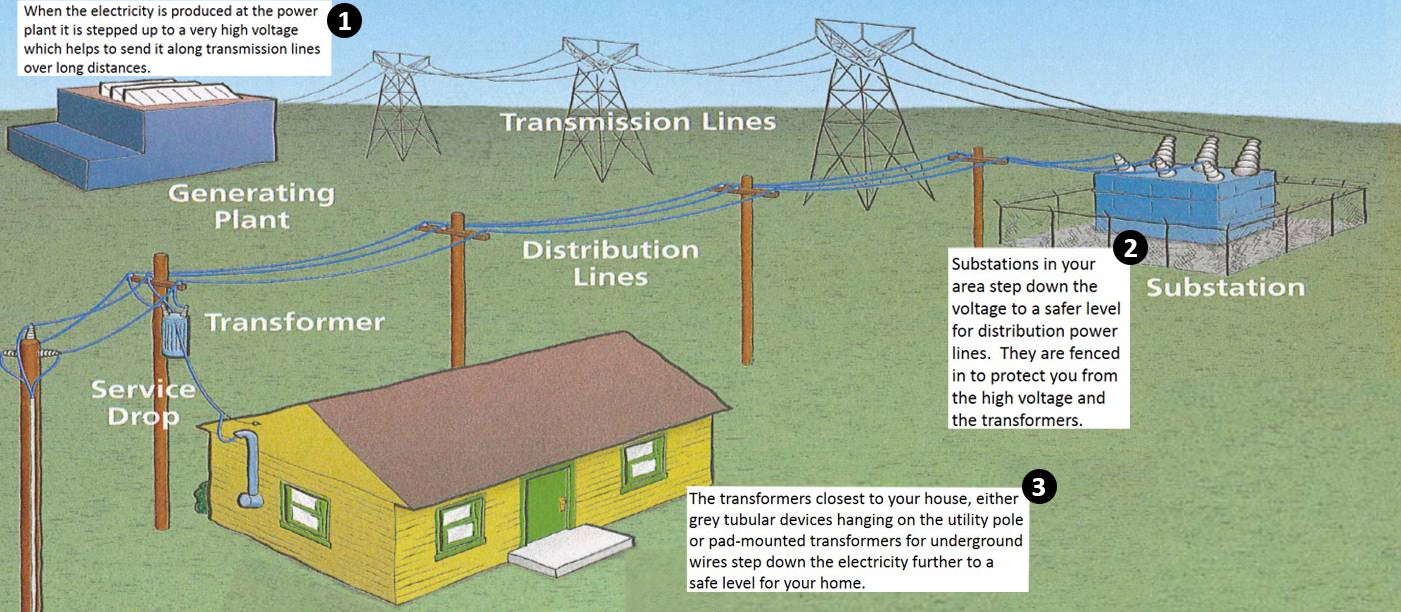 What is all the equipment attached to my house? Do I own this?
Your Cooperative distributes power to you and other members across utility poles and transformers that are owned and maintained by the Cooperative. Once specialized wires, known as a service drop, come off of a residential pole-mounted transformer and descend to your home's weatherhead, which leads to your electric meter, this is the point of transition where you own the equipment. This excludes the meter, which is the Cooperative's responsibility.
We've produced a special whiteboard animated video in our Watts It About? series to help illustrate this. Watch below!
When having work done on my home, can an electrician pull my electric meter or should the Co-op?
Your Cooperative must insist that members having work done on their home call our office at 973-875-5101 to schedule a Co-op employee come to perform disconnect service rather than hiring a third-party electrician. This is for the safety of all involved, as electrical problems could arise if the electric meter is not rewired properly. We offer disconnect and reconnect services absolutely free of charge.
What does all the equipment on the utility pole do?
Outages, Blinks, and Interruptions
Why can't you tell me how long my power will be out?
If the outage is extensive with significant damage to our system, we cannot always tell what has been damaged until we begin to restore power. A connection that appears to be fine may, in fact, be damaged and will not show up until the lines to it are fixed and energized. We try to provide estimates of restoration time whenever possible via the radio, television, social media, or through our voluntary email alerts.
Why do I need to call? Don't you know right away when my power is out?
Our automatic metering system reports kWh use to us, but because this is a delay in this reporting we will not know immediately if your power is out. We will eventually receive information showing your power is out, but this may take some time. Calling our office when your power goes out is the best way to have us address the problem more quickly.
Additionally, an outage caused by something inside your home or business will not be reported to us by our metering system since our flow of power to the electric meter is still there. If you lose power, check to be sure your breakers haven't tripped. If they are fine, give us a call and we will try to determine the source of your outage.
Why do you have to cut my trees?
Sussex Rural Electric Cooperative continually strives to provide the highest level of service quality. This service level is defined by minimal interruptions and blinks, proper voltage, and overall reliability. Trees and vegetation are the single largest "culprits" when it comes to service interruptions. As a result, we are continuously trimming the right-of-ways to keep tree limbs away from our power lines. We have a contract with Asphlund Tree Experts, LLC to trim these rights-of-way.
These contractors will concentrate in select areas, trimming our entire service territory over the course of four years, and do as-needed trimming in other areas. Our policy when trimming trees (outside of emergency situations) is to cut and remove everything we cut. Landowners will ask for us to leave the wood for their own purposes from time to time. If you see wood laying around in the wake of our crews trimming, this is most likely the reason. This work will benefit you with fewer interruptions and blinks, and will improve your overall quality of service.
When planting trees, remember to take into consideration future growth (see the chart below). For more information on our policy on residential trees, please read out Tree Management page.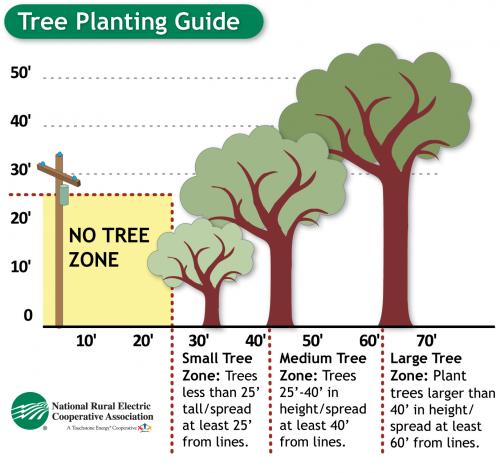 There was a big storm with lots of people losing power. It seems like mine has been out longer. What do I do?
In large storms, damage hits all parts of our system. Our crews work to restore the largest number of customers and critical-need customers first then work their way through all the damage. Sometimes, the power line leading to your home has been damaged and we simply have not seen it. Here's a simple test: check your breakers to be sure they are all set properly, then check with your neighbors on both sides to see if they have power. If your breakers are fine and your neighbors have power, call us and we will get our crews to help you.
In the meantime:
Have a flashlight and battery-operated radio handy. Be sure to have extra batteries on hand.
Have a hardwired phone (one without a power pack) or a fully charged cell phone for emergency calls.
Make sure you know how to exit your garage if it has a powered opener. Most have a red handle to pull that releases the mechanism so you can raise the door by-hand. Check it in advance.
Stockpile water and a small supply of nonperishable food.
Check any emergency generator for proper orientation.
Have a list of important phone numbers handy (family members, friends, a doctor, etc.). Keep it with your storm kit.
Make sure you have an adequate supply of medications. If the medications require an electrically-operated device to administer, be sure you have a backup power supply or a mechanical alternative. We cannot ensure when we will be able to restore power so you must take steps to be sure you can administer important medications when needed.