SREC will be adjusting its rates beginning on bills dated after January 10, 2023
In recent years, Sussex Rural Electric Cooperative has encountered several challenges that have impacted its operations. Our mission is still and will always be to provide the highest quality of service at the lowest possible cost. Sussex Rural Electric Cooperative's current rate is lower than the national average and has been the lowest in the state of New Jersey when compared to the state's investor-owned utilities. However, we have determined that to continue to provide excellent service to you all, a rate increase will be required. Sussex Rural Electric Cooperative is a not-for-profit, member-owned utility that is cost-driven, not profit-driven. This increase is in response to a steep increase in our operational costs over the last few years.
To meet these rising costs and ensure we have the capital to provide safe and reliable electric service to our members no matter the circumstances, we will be adjusting our rates in 2023. Beginning with bills dated after January 10, 2023, you will see the following changes:
The residential system connection fee will increase by $10
The residential and commerial energy charge (per kWh) will increase by 14%
For more information, press the green button to read the recent article from our newsletter Currents regarding the topic of a rate increase or the FAQ section included below.
Monthly Residential Rate for New Jersey members (beginning on bills dated after 1/10/2023):
| | |
| --- | --- |
| System Connection Fee (monthly) | $36.25 |
| Energy Charge (per kWh) | $0.1247993 |
| ETS Energy Charge (per kWh) | $0.0671861 |
Monthly Residential Rate for New York members* (beginning on bills dated after 1/10/2023):
*NY rates are lower because NY does not charge sales tax on electricity
| | |
| --- | --- |
| System Connection Fee (monthly) | $34.00 |
| Energy Charge (per kWh) | $0.1170451 |
| ETS Energy Charge (per kWh) | $0.0630116 |
In recent years, the Co-op has been managing and absorbing cost increases and supply shortages for our materials, equipment, and fuel. For example, an 8' wooden crossarm that cost us $31 in 2020 now costs almost $300 in 2022.
On top of all of those pressures, we are now facing a large increase in the cost of power itself, specifically natural gas costs. While this only makes up about 20% of our power supply, the increase is significant. Our mission remains to provide the highest quality of service at the lowest possible cost. However, we will need to implement a rate increase.
As a not-for-profit utility, Sussex Rural Electric Cooperative is not raising rates in order to increase profits for the company. These changes are a direct, proportionate response to the rising costs that the Co-op is facing in providing power to its members. In order to provide reliable service, SREC must collect enough revenue to cover electric service expenses and maintain sufficient margins to manage emergencies and maintain our electric distribution system.
Sussex Rural Electric Cooperative has not changed its energy rate or System Connection Fee in over three years. During the pandemic, rising costs began to affect both consumers and the Co-op, and SREC was faced with an unprecedented amount of accounts not paying their bills. Still, the board of directors and management of Sussex Rural Electric Cooperative made the choice not to raise rates on its members in order to recoup costs. This decision was made even as other utilities raised their own prices.
Leading into 2022, SREC opted not to have a rate increase and budgeted for an operating loss. This was a purposeful decision that we made to show support for our members during difficult times.
At this point in time, power costs have continued to rise and the Co-op has opted to raise its rate for the first time in over three years in order to cover these expenses.
As a not-for-profit cooperative, our goals are not geared around turning profits in order to earn a dividend for stockholders. We simply operate to provide reliable electricity to our 12,000 members as efficiently as possible. When making changes, we carefully consider how high our rates need to be to cover the costs of providing consistent, reliable, and safe electric service to our members.
We have a system to return any profits made to our members as capital credits. When SREC makes a profit, we reinvest these margins into our system before eventually retiring them as capital credits to return to members. Capital credit allocations are based on how much energy a household has used in a given year. Our board of directors meets every year to determine if the Cooperative is in a good position to retire capital credits. When capital credits are retired, we send a check for your share to your most recent address. This is why we encourage you to share with us a new mailing address when you move out of our service territory.
Our 2023 rate adjustment will have an impact on both our Energy Charge (per kWh used) and our System Connection Fee.
Formerly known as the Facilities Charge, the System Connection Fee is a fixed rate used by the Co-op to cover the expenses of maintaining the best possible quality of electric service and investing in improvements to our infrastructure. Below are examples of the expense items covered by the System Connection Fee:
Wire, transformers, utility poles, other equipment, and labor needed to build and maintain the electric distribution system
Keeping pace with increased system investments to improve reliability
Implementing new technologies to provide increased reliability and operational efficiencies such as the outage management system and advanced metering
Liability insurance, interest, taxes, and emergency storm restoration
Outage restoration costs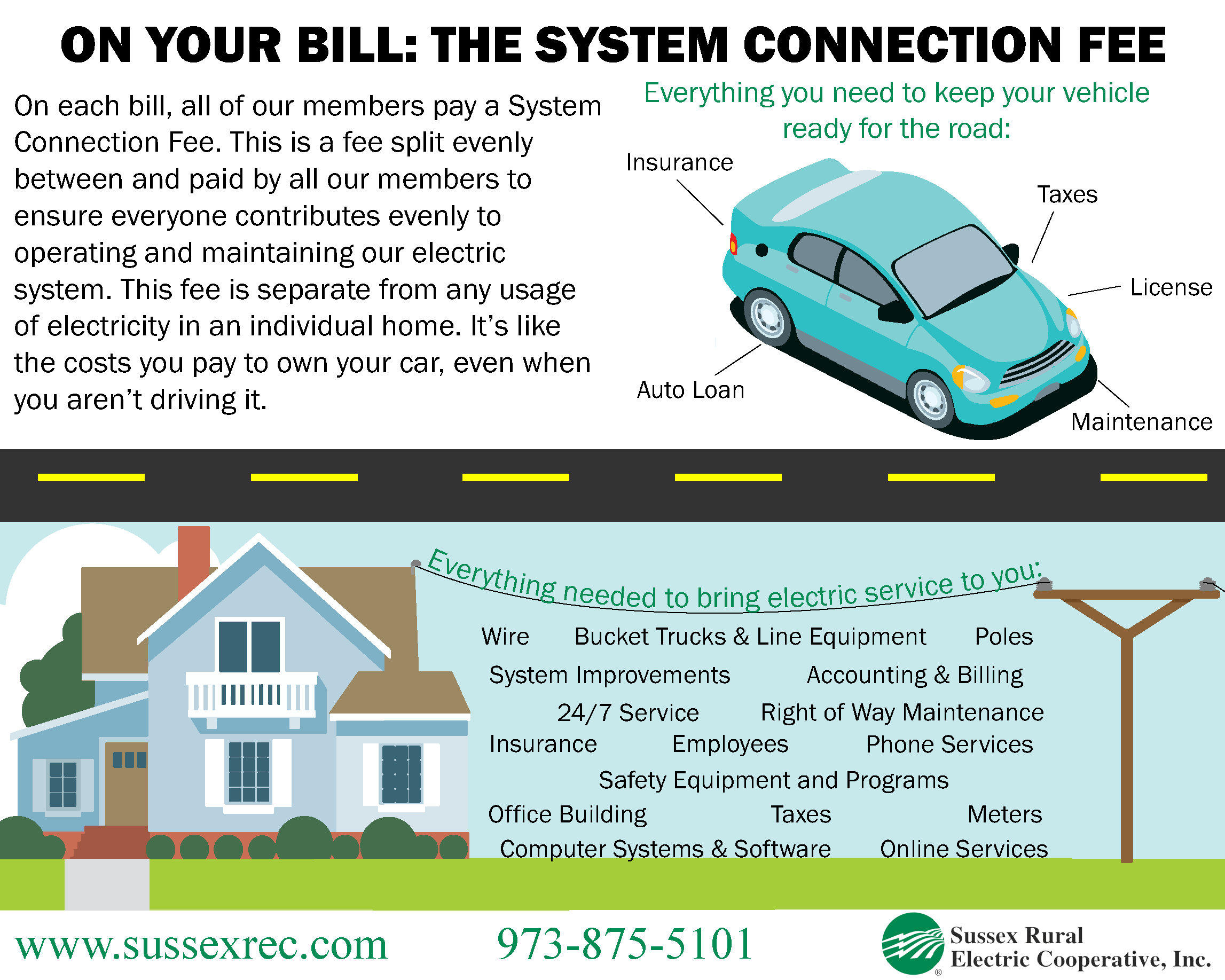 We understand that any change made to our rates can have a large impact on members experiencing financial difficulties. We want to assure members that there are options like levelized billing to help qualified members catch up or keep up on their bills.
There are also state-run services such as LIHEAP that exist to help citizens of New Jersey afford their utility bills. Applications for LIHEAP are open now so if you are concerned about your ability to pay your bills, visit www.sussexrec.com/assist for more information on LIHEAP and other available programs.
In response to this rate increase, you may be looking for options to reduce your kWh usage in your home. Many resources exist offering energy-saving tips that can help reduce your usage and make an impact on your electric bill. We offer some suggestions to help you get started here on our website, which you can find by visiting www.sussexrec.com/ways-to-save.
Our Beat the Peak program is also a good way to reduce energy consumption while receiving bill credit incentives, and enrollment is free. By enrolling your electric water heater or central air unit, we will install a Demand Response Unit that allows us to remotely shift the usage of these appliances to off-peak times. This helps reduce demand on our system while still providing enough comfort from these devices for the members of your household. For registering your electric water heater, you will receive a $100.00 bill credit plus a $2.00 bill credit each month. For registering your air conditioner, you will receive a $50.00 in the form of a bill credit, along with a $5.00 bill credit per month during summer months of June through August.