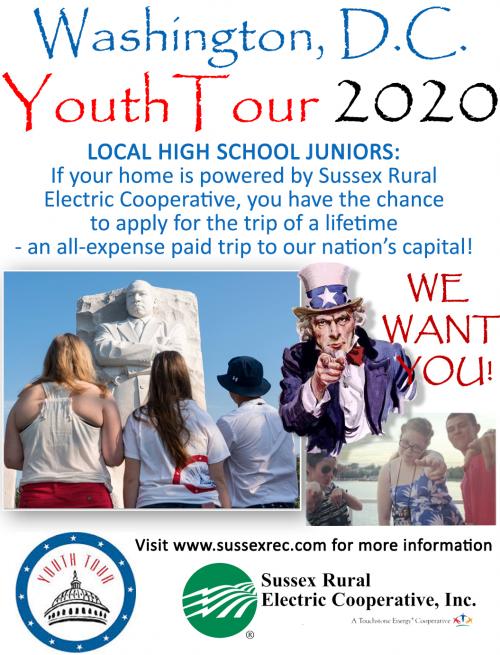 Youth Tour is a long-running program that combines education, professional development, meeting new friends, and fun into one unforgettable trip! High school juniors who reside in a home powered by Sussex Rural Electric Cooperative are eligible to apply!
More than 1,700 students from all across America take part in the Youth Tour experience each year, and so can you! Travel to Washington, D.C., where you will meet your U.S. Representatives and Senators. This unique trip will give you the opportunity to watch history come alive as you explore the museums, memorials, and monuments with students from New Jersey and Pennsylvania.
You will meet student leaders from nearly every state and hear dynamic industry leaders speak about their careers on Youth Day. You will make friendships that will last a lifetime and be part of a group that has more than 50,000 alumni in every walk of life including U.S. Senators and CEOs.
Since 1986, Sussex Rural Electric Cooperative has sponsored juniors from area high schools to travel to Washington, D.C. for a week in June. Known as "Youth Tour," the trip provides an opportunity for these students to experience all the beauty and history of the nation's capital.
Chosen Youth Tour participants will see the U.S. Capital, meet with congressional representatives from their state, tour national monuments and memorials, and visit the National Zoo as well as the Smithsonian museums. While on tour, they will attend an All States Dinner Dance where they will have the chance to meet nearly 1700 students from other electric cooperatives representing every State in the Union. Best of all, Youth Tour is fully paid for by Sussex Rural Electric Cooperative.
Click here for more information from the national site. For details on the history of Youth Tour and specific activities that are part of the trip, check out our Youth Tour brochure.
Dates for Youth Tour 2020 will be announced soon
Be sure to check back here for the application and deadline information