Supporting Our Local Schools for Over 80 Years
In the modern world, it's essential for students to have a solid grasp on both the importance and utility of, as well as the science behind, electricity. This is both to provide a strong base of knowledge that could come in handy across their lives, as well as keep them safe when dealing with potential electric hazards.
We here at Sussex Rural Electric are committed to helping local classrooms provide this kind of insight. Currently, we sponsor field trips for fourth grade classes or scout troops who would like to visit our office and learn about electricity, as well as demonstrations to be given by SREC employees at schools for pre-k or fourth grade classes.
We also offer a classroom grant program to give local teachers the ability to bring new, creative lessons to their classrooms that their usual budgets may not cover. For more information on all of these programs, read below! 
Sussex Rural Electric School Presentations and Field Trips
Sussex Rural Electric Cooperative offers an electrical safety program that gives students the opportunity to learn about the science of electricity and electrical safety through a presentation by utility workers.
Through a detailed and engaging PowerPoint presentation and workbooks, our safety program teaches students what electric power is, where it comes from, and the dangers that surround it through. We have found that students of all ages have a lot of curiosity about electricity, so a question-and-answer section is included for the benefit of the students. If available, an SREC lineman will accompany the presenters, to give a lesson on a lineman's gear and the nature of linework, and answer questions from the class.
Alternatively, from the months of March to June classes can opt to visit Sussex Rural Electric Cooperative's office for a tour of our facility. Students will have the opportunity to get an up-close look at the business of an electric cooperative. If weather permits, the students will leave the presentation portion of the trip and go outside to see a bucket truck up close, with the option for a group picture.
Each student will receive a "hard hat," an electricity-themed activity book, stickers, and a certificate acknowledging their safety training
Trips start in March and are held Tuesdays, Wednesdays, and Thursdays from 1:00 pm –3:00 pm
Field trips at the Cooperative take approximately 1.5 hours
For more information on options for field trips and other opportunities for student learning, see our brochure
We also offer educational opportunities for younger groups, typically Pre-K classes. SREC employees will come to the school to give a beginner's lesson on electrical safety. For these presentations, we may utilize our "Hazard Hamlet" Module. Hazard Hamlet is an interactive, educational diorama display which makes use of lights and sounds to portray to students the potential dangers of electricity in everyday situations. The demonstration is an eye-opening experience complete with sparks, sounds, and small power arcs. Hazard Hamlet is the perfect way to keep the attention of young children and visualize guidelines for electrical safety in a relatable way. Pre-K students will also be given hard hats to let them remember the experience and to be safe around electricity in the home.
Interested elementary school teachers, Pre-K teachers, or scout leaders can call our office or send us an email to set up a field trip or presentation, or find more information. We are happy to work with the educators of our community to teach our next generation of leaders about the importance of electrical safety.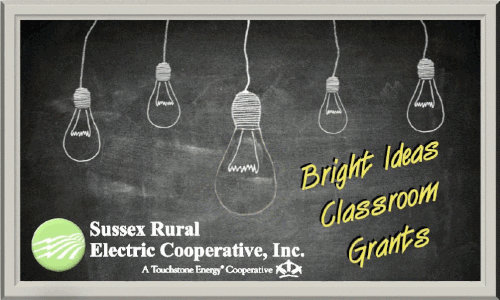 Bright Ideas Classroom Grant
At Sussex Rural Electric Cooperative we recognize that the children of today are the members of tomorrow. The Bright Ideas Classroom Grant Program was designed to support our future members by helping their teachers better afford innovative and effective educational curriculum that is not covered by traditional school financing. Individual teachers can apply for grants up to $500. Each year, SREC will award a total of $1,000.00 through this grant program. The education-related programs must benefit SREC members or student populations within SREC's service area.
Eligible educators in public and private schools, pre-K through 12th grade, must be able to prove membership benefit. It is not required for teachers or schools to receive electric service from SREC. Grants can be awarded for projects in any discipline, but must be energy or cooperative related. Projects can range from the study of electricity in science class, the cooperative business model in business class, or the history of American rural electrification in history class. The grant is not limited to these topics. Teachers are encouraged to get creative!
Grant Applications are accepted every year from the first week of March until the end of April.  Grants will be awarded at our 2020 Annual Meeting at the beginning of June (date pending).
Click here for a list of eligible schools