Connecting a Portable Generator is Now Safe and Easy with GenerLinkTM 
In the event of an outage, a generator goes a long way in giving homeowners a sense of stability. When you're left without electricity, you're left without important parts of your home that are hard to live without, like your refrigerator, hot water heater, well pump, and even the lights. GenerLinkTM is here to provide our members with the peace of mind that comes with knowing not only that these essentials are covered, but that there has never been a safer and easier way to set up your generator if an outage strikes.
Portable generators, when not handled properly, can be dangerous. Old, damaged, or undersized cords can overload and overheat your generator, starting a fire. And you aren't the only one at risk: generators connected improperly to your home can "backfeed" and send a dangerous electrical current back through utility lines, where they can injure or even kill unsuspecting line workers there to restore your community's power. But with GenerLinkTM, the risk of backfeed is a thing of the past -- when your generator is running, GenerLinkTM ensures it is disconnected from utility lines.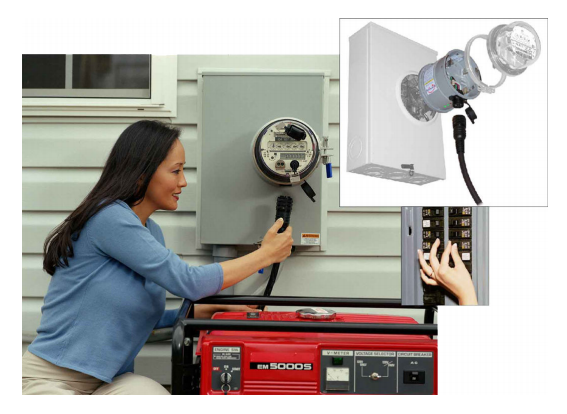 With GenerLinkTM installed, dealing with an outage becomes a quick and easy, 5-minute process. GenerLinkTM is installed by a licensed electrician behind your electric meter, letting you plug your portable generator right into your circuit box with a specialized cord that attaches quickly and locks into place with GenerLokTM.
From here, you can simply flip a switch in your circuit box to decide which appliances you need running during an outage. Most transfer switches are limited to 6 to 8 hard-wired circuits, but GenerLinkTM gives you complete flexibility to work within the power of your generator. And when the outage is over, a status light lets you know power has been restored, signaling that it's okay for your generator to be disconnected and put away.
GenerLinkTM is compatible with most generators. Supply us with the make and model of your generator and we will happily let you know if it's the right fit. Simply contact SREC Resources at 973-875-1365 to get started. For more information on the GenerLinkTM system, visit www.generlink.com.