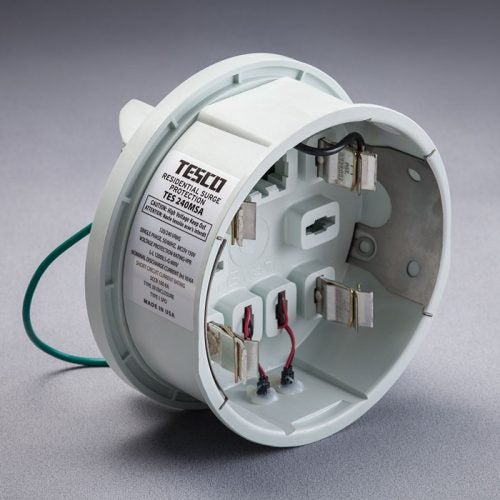 Your home's appliances and electronic devices are essential for your day-to-day life. However, when left unprotected these devices are vulnerable to tremendous damage from exposure to electrical surges. Overvoltage conditions can create surges that can be devastating to your home's electronics, resulting in costly efforts to replace your damaged property. In the best interest of its members, Sussex Rural Electric Cooperative offers surge protection devices that members can use to protect their home's sensitive appliances and electronics from damaging voltage disturbances.
For this purpose, Sussex Rural Electric Cooperative sells and installs Tesco brand TES 240 MSA ("Meter Socket Adaptor") Surge Arresters. These devices are installed behind a home's electric meter as a means of protection from surges from line overvoltage conditions. Surge arrestors are capable of protecting your whole home from high voltage surges, as compared to smaller surge protection devices, such as power strips, which can protect only a few items. Once higher than normal voltage is detected, this device will "clamp" the voltage, restricting the flow of electricity in order to protect your home from a spike in power.
Each surge protector comes with a 10-year manufacturer warranty that offers to replace the surge protector and covered household devices that were damaged in the event of the surge protector's failure under normal surge conditions. Full warranty details can be found in this webpage's "Documents" section. You can apply online to equip your home with surge protection using the form below.
---