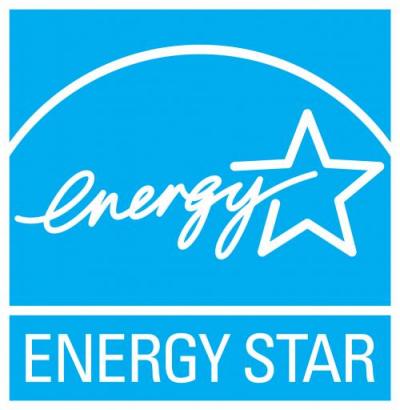 Appliances account for nearly 13% of your home's monthly energy use. ENERGY STAR qualified appliances incorporate advanced technologies and use 10-50% less energy than standard models. ENERGY STAR appliances often outperform others appliances and include components surpassing those found in standard appliances. 
ENERGY STAR is the trusted, government-backed symbol for energy efficiency. ENERGY STAR is a joint program of the U.S. Environmental Protection Agency and the U.S. Department of Energy, making it easy for consumers to identify and purchase energy efficient products that offer savings on energy bills without sacrificing performance, features, or comfort.
Sussex Rural Electric Cooperative encourages its members to get in on the energy savings that can come from owning ENERGY STAR models by providing appliance rebates. SREC's appliance rebates are based on guidelines to the New Jersey Board of Public Utilities' ENERGY STAR rebates.
SREC's rebates are offered entirely through Sussex Rural Electric Cooperative. Rebates are delivered to members in the form of a bill credit on their monthly bill. Only current Sussex Rural Electric Cooperative members with active accounts are eligible to receive a bill credit.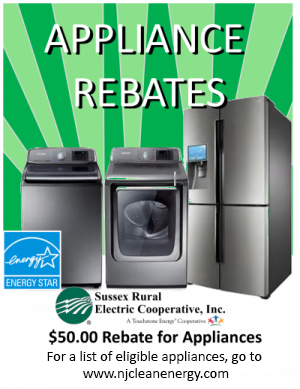 Available Rebates
ENERGY STAR certified refrigerators are required to use about 15% less energy than non-certified models. Sussex Rural Electric Cooperative is willing to offer its members a $50 rebate for the purchase of an ENERGY STAR certified refrigerator.
ENERGY STAR certified clothes washers and dryers use about 20% less energy than regular washers and dryers. Washers also use about 35% less water. The washer and dryers also have greater tub capacity which means you can wash fewer loads. Sussex Rural Electric Cooperative offers a $50 rebate on ENERGY STAR certified washers and dryers.
> List of ENERGY STAR certified clothes washers
Applying for a Rebate
« After purchasing and installing qualifying equipment, complete a rebate form, which is available at our office or online. Once completed, return it to Sussex Rural Electric Cooperative by email (to appliancerebates@sussexrec.com), mail, or in-person along with purchasing information or receipt and ENERGY STAR label.
« Rebates are available only on ENERGY STAR appliances as outlined and listed on www.njcleanenergy.com (see lists of ENERGY STAR appliances above for eligible products)
« Rebates are available on a first-come, first-served basis, and are subject to availability of funds
« Appliances are only eligible for a rebate if they were purchased within the last 12 months
« Only one rebate per customer per appliance type will be distributed
« Rebates will be given in the form of a bill credit
« For further information on covered appliances, visit www.njcleanenergy.com