The Cummins QuietConnectTM Series offers a wide range of powerful backup backup solutions for many sized homes, designed specifically for its quiet and powerful performance. The compact design and sleek aesthetics allow the generator to blend into any yard. Cummins home standby generators are backed by an industry leading warranty and nearly 100 years of Cummins expertise powering lives from backing up hospitals and data centers to powering trucks, boats, and RVs.
The Cummins QuietConnectTM Series residential generators are designed and manufactured in the United States. Their powerful engines married with the Cummins fuel systems, generator, and controls ensure the highest possible quality and reliability. Self-diagnostics and automatic exercise mean that your generator will run when you need it, every time!
Cummins Residential Generators
Designed to be extremely quiet and neighborhood-friendly
Built-in remote monitoring means you can control your generator from anywhere
Intelligent load management so you don't have to make choices on which circuits you power
Flexible exercise mode to suit your preference and reduce unnecessary fuel consumption, emissions, and noise
Compact and aesthetically pleasing design blends into your landscape
Can be installed as close as 18'' from your home
Specifications:
Operates on natural gas or propane
Length 34.1 inches, width 36.0 inches, height 27.3 inches
Weight varies by generator model
Sound level is 65 dB(A) at 23 feet at normal load
5 year limited warranty
Generators Installed by SREC Resources
There is more to generators than meets the eye. It involves a fair amount of effort to size and select the generator that is right for you. While not an impossible task, you may prefer to have help in the process.
SREC Resources (NJ Licensed Electrical Contractor #15375A) has the requisite knowledge to make your generator purchase a pleasant and successful experience. As an officially authorized Cummins dealer, we can aid in the sizing, selection, and installation of generators from 13kW to 100kW.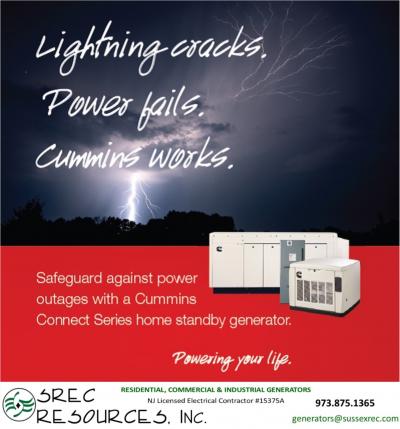 Contact us today for help in picking the perfect generator for your needs. 

Phone: 973-875-1365
Email: generators@sussexrec.com