Sussex Rural Electric Cooperative runs on a set of Seven Principles that influence its values and the way we do business as employees.The seventh of these principles is "Concern for Community."
As an organization built by the people of Sussex County, founded to serve their communities, and staffed by members of these same communities, Sussex Rural Electric Cooperative strives to keep involved with local events, provide opportunity and learning experiences to our students, and help those in need in our own backyards.
Sussex Rural Electric Cooperative does all it can to give back to the communities that built it and highly encourages all of our members to get involved wherever they can.
Donation Drives
Part of displaying Concern for Community is bringing people together and motivating them all to work toward the greater good of their communities! Throughout the calendar year, Sussex Rural Electric Cooperative participates in several donation drives hosted by Sussex County-based charitable organizations. Collection boxes are set up in our office lobby. All of our members, or anyone else in the area looking to make a difference, are encouraged to stop by and donate what they can! 
Currently Ongoing: Sussex Rural Electric Cooperative is participating in a supply drive to benefit the animals at Father John's Animal House in Lafayette. The "Less Talk, More Walks" Pet Supply Drive will be collecting donations at Franklin Sussex Automall from Friday, June 17th to Thursday, July 28th. Visit our Collections for Community page for more information.
We host the Sussex Rural Electric Cooperative Food Drive, where we accept nonperishable food items year-round! This collection is a long-running program that has donated thousands of pounds of food to Sussex County food banks. Items are donated to the food locker of the Division of Social Services at 83 Spring Street, Newton, NJ. If you are ever in dire need of food for yourself, your family, or your pets, this may be a good resource to turn to.

If you are considering making a donation, please note there is particular need for certain items such as shelf stable milk, cereals, peanut butter, jelly, crackers, canned meals, soup, tuna or other proteins, personal hygiene items, and pet food.

SREC is participated in collections for the 2019 Stand Down for Veterans presented by Pass It Along through the first week of June. Members could donate gently used, men and women's clothing items and shoes of all sizes, new socks and undergarments, and travel size toiletry items to be given to homeless military veterans in our area. Donations were rewarded with free 4-packs of LED light bulbs. After our collection, Pass It Along held its Stand Down event in Sparta where collected donations as well as SREC-branded tote bags were distributed.
During the holiday season, Sussex Rural Electric Cooperative collects for the Family Promise of Sussex County Toy & Clothing Drive. We have a collection box set up in our lobby where members can donate children's clothes and new toys for underserved families to make the holiday season a little brighter for their children.
Building the Next Generation of Leaders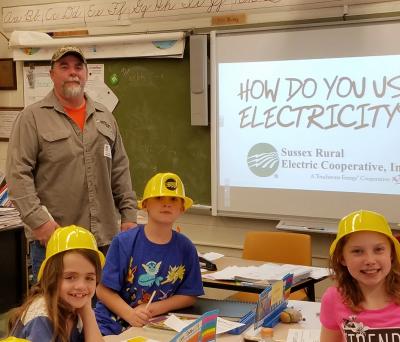 At Sussex Rural Electric Cooperative, we place a high value on educating and lifting up our local students that will become the co-op members and community leaders of tomorrow. We support our local schools and students through a variety of programs:
Recently, we have established a partnership with High Point Regional High School to create an internship program where local high school students considering jobs in work as a lineman, engineer, and possibly other positions at the cooperative can learn about the availability of viable jobs in our community and the many options our key to scuccess the key to success here, and we encourage other local businesses to consider implementing similar programs. Local businesses are encouraged to reach out to learn about how they could start a program like this one to help create opportunity in our communities.
Sussex Rural Electric Cooperative teaches schoolchildren about topics like electrical safety through both school visits to give educational presentations and hosting field trips to our office. Classes that come to our office also have the opportunity to learn about the career of being a lineman and get an up close look at one of our bucket trucks. To meet the needs of students and scouts during the pandemic, these programs are now offered online. Read more on our schools page!

Scouting groups are also encouraged to schedule a tour of our office, to learn about electricity and see firsthand the business behind the Cooperative.

To help students continue their education after high school, Sussex Rural Electric Cooperative offers several scholarship opportunities for local students. We know that college is not for everyone and the value that careers in the trades offer, so in 2018 Sussex Rural Electric has also introduced two scholarships specifically for students seeking a trade school education.
NRECA's Youth Tour is a great opportunity for local high school juniors to learn about the history of our nation, meet U.S. Representatives and Senators, and take part in a national, electric cooperative-sponsored program that brings 1,700 students to our capital every year. Every year we select local students who reside in SREC-powered homes to bring on this all-expense paid trip to Washington, D.C. Don't miss the chance to apply!