To view the full print/pdf version of Volume 1, Issue 1 of Currents, click here
For previous issues of Currents, visit our Currents Library
Easy Ways to Pay Your Bill
With SREC, there are many ways you can pay your bill!
When you receive your bill, you can mail a check or drop it off at our office. You can pay at our office during business hours (8 am – 4:30 pm, Monday – Friday). If you're coming by after hours, you can deposit your payment through our outdoor payment drop box.
You are also able to make a payment over the phone. If you call our office, we can transfer you to our over-the-phone payment system. We accept payments by credit card, but please note that there is a 3.5% ($1.95 minimum) convenience fee charged by the credit card merchants that will apply to any card payments. You can also pay with your checking account with no fee!
We offer online bill payment at www.srecbillpay.com, with several quick and convenient options that members can take advantage of. Once you set up your account, you can use our billing website to pay your bill, view your usage data and account activity, and change your billing preferences. These options include:
Scheduled Payments – You may select an upcoming date for your payment to be posted.
Paperless Billing – You will be enrolled to receive email notifications about your bills instead of physical bills by mail.
Auto Pay – Each month, your balance is securely deducted from your bank account when your bill is due, with no fees or additional charges.
Pay by Text - You will be enrolled to receive text alerts prompting you to pay your bill.
Please note that convenience fees will apply to any online payments by credit card, but all options using e-check/checking account will be fee-free. www.srecbillpay.com can be accessed for secure payment on desktop or mobile devices.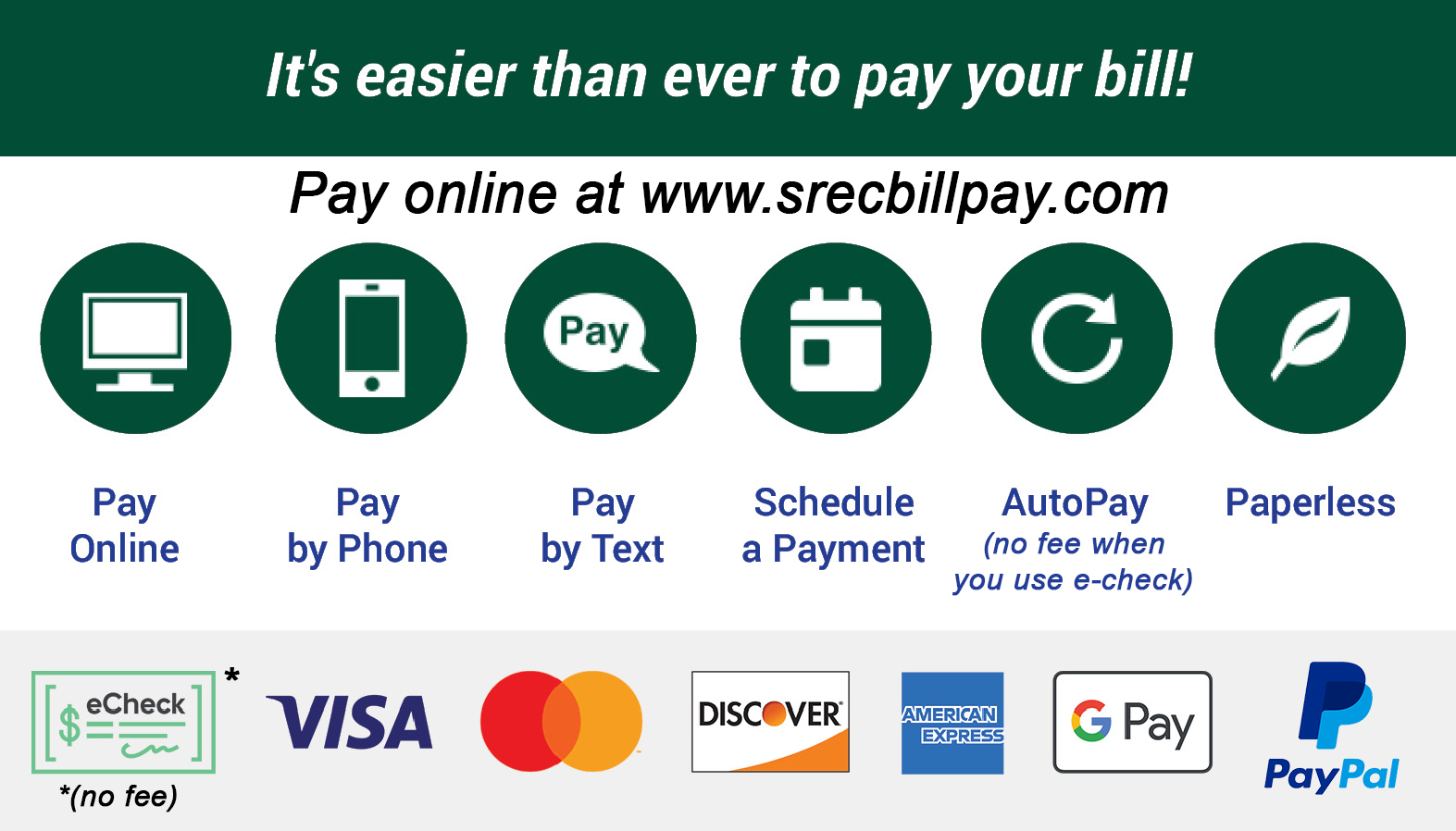 If you want to make an online payment without signing in to your account, you can use our new Quick Pay feature! On either desktop or mobile,
hit the "Quick Pay" button on any page of www.sussexrec.com to visit our Quick Pay platform. You can make a secure payment to your account using Visa, MasterCard, American Express, Discover, Google Pay, PayPal, or fee-free e-check!
We are offering more options than ever so you can pay your bill your way! If you ever have questions about your bill, how to pay, or payment assistance options, you can contact us at billing@sussexrec.com!
---