To view the full print/pdf version of this issue of Currents, click here
For previous issues of Currents, visit our Currents Library
Did You Know?
  By: Steve Sokolowski, Marketing Associate
Members who follow us on social media may be familiar with #MondayMoneySavers, the weekly energy-saving tips that we share with our community every Monday. We have had a tip go up on our Facebook and Twitter pages every week throughout 2019 and 2020. As we move on to 2021, we've decided to broaden the kind of information that we share with our members.
Starting on Wednesday, January 6, 2021, we will begin sharing more varied facts under the moniker #WattsUpWednesday. Each Wednesday, we will share more diverse tidbits of electricity-focused information.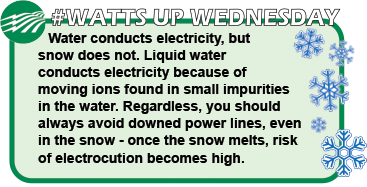 Some of these tips may help you save energy, and others may help save your life! #WattsUpWednesday posts will encompass energy efficiency and electric safety, as well as topics like the science behind electricity, the job of lineworkers, rural electrification, electric co-ops like Sussex Rural Electric Cooperative, and more! If there are any topics that you might like explored leave a comment on a #WattsUpWednesday post!
Follow us on Facebook or Twitter for #WattsUpWednesday and more from Sussex Rural Electric Cooperative!
---