To view the full print/pdf version of this issue of Currents, click here
For previous issues of Currents, visit our Currents Library
Pluggy's Power Patrol
  By: Steve Sokolowski, Marketing Associate
Without electricity, our modern lives would not be possible. While it powers everything we do, it is critical to always keep safe around electricity. The children of today were born into an interconnected world, powered by electricity. To them, electricity is ubiquitous and familiar, which perhaps makes young children the most vulnerable to electricity's dangers. This is why electric safety education is a focal point of Sussex Rural Electric Cooperative's educational outreach efforts.
Sussex Rural Electric Cooperative has been a proud partner to our local schools throughout its nearly 84-year history. As a community-based organization, being a part of building the next generation of leaders is a great privilege. Being a local electric utility means we are in the best position to inform the youth of our community on the importance of electric safety. When teaching this lesson, it is important that we present this information in a way that both reinforces this message and makes kids want to learn.
In 2019 SREC introduced Pluggy the Pug as our youth outreach mascot. He is a pug, who is also a plug, that was adopted by Lineman Larry and has learned all about electricity, the science behind it, and the best practices to stay safe. Pluggy invites local students to join him as official members of Pluggy's Power Patrol, dedicated to keeping their homes safe from electrical hazards and spreading knowledge about electric safety. During Spring 2019, this program reached between 1,500 and 2,000 local students, ranging from preschool to fifth grade. We reinforced everything taught during our presentation by giving students and scouts Pluggy-branded activity books, stickers and temporary tattoos, and a Power Patrol badge sticker to take home with them. We also gifted each teacher with a stuffed pug to keep in their classrooms as a reminder to their students.
A national and regional award-winning program, the Pluggy's Power Patrol program had a great first year that unfortunately was cut short due to the coronavirus pandemic. While planning for the next school year, it was clear that the pandemic would present us with new challenges in providing the best possible educational experience. Through deliberation and innovation, we have adapted Pluggy's Power Patrol to best suit the current needs to children, teachers, and scout leaders.
The new version of the Pluggy's Power Patrol educational program is able to deliver a comprehensive, fully customizable experience over Zoom and can reach students whether their classes are in-person, all virtual, or some hybrid of the two. Pluggy comes to each presentation equipped with new visuals, exclusive activities, and topics that are fully customizable to meet a group's grade level, areas of interest, and goals.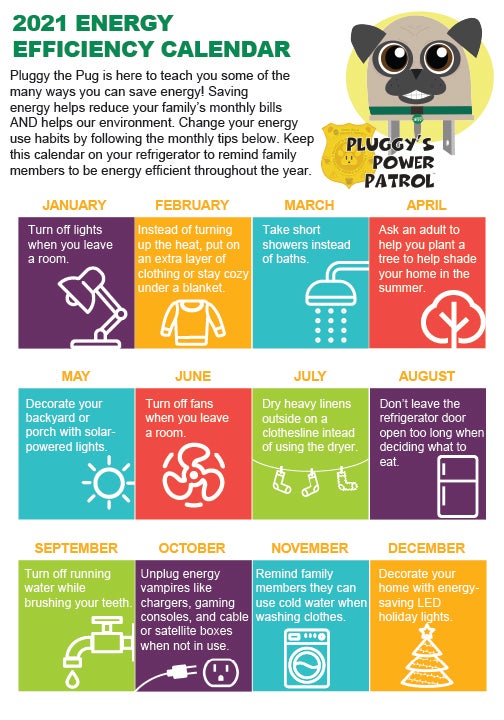 This new phase of Pluggy's Power Patrol has already begun. Presentations are hosted live over Zoom and allow for full participation from students or scouts. This is all offered by Sussex Rural Electric Cooperative, absolutely free. If you are an educator at a school in our service territory or a scout leader who is a member or who leads a troop of scouts from mostly SREC-powered homes, and are interested in scheduling a virtual presentation with us and Pluggy, let us know by reaching out to Director of Marketing & Member Services Claudia Raffay at craffay@sussexrec.com. After the last school year ended with shutdowns and stay-at-home orders, we are excited to be able to bring back Pluggy and teach kids in a whole new way!
For any parents interested in having their child take part in the learning, we have resources for you as well! All activities included in our Pluggy's Power Patrol activity book are available to print and download on our website. Some activities are exclusive to our school and scout presentations and cannot be found on this page. But as a bonus, you can find a Pluggy calendar on this page featuring twelve energy-saving tips that your young Power Patroller can practice at home! You can find all of this at www.sussexrec.com/pluggy. 
---