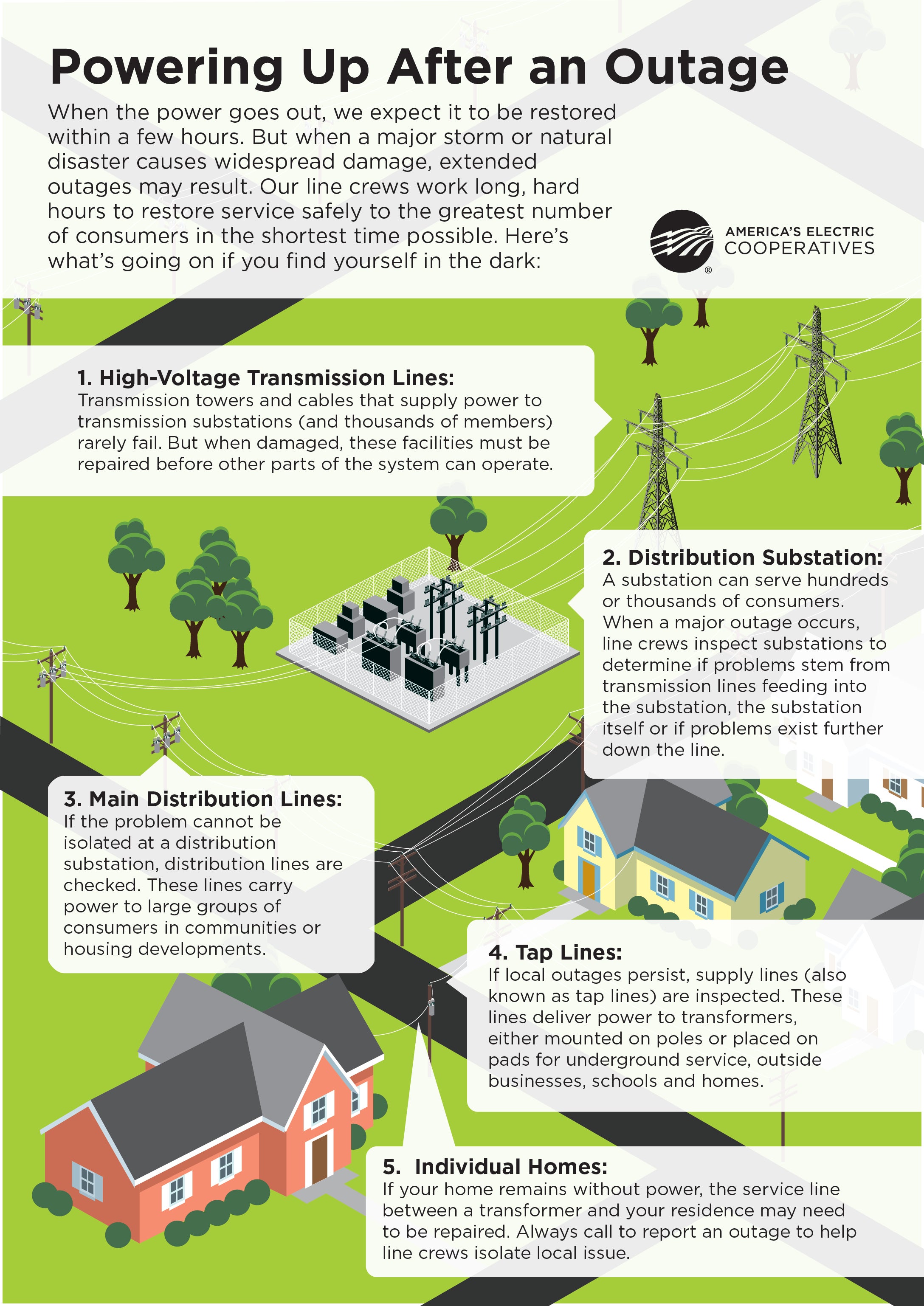 We often take electricity for granted. It makes our homes comfortable day-in and day-out, and it's at the ready with little more than the flip of a switch. Your cooperative lineworkers are always out there maintaining an intricate system of power lines around the clock.
What goes on behind the scenes once that switch is thrown is far more complex. The power grid, which can be described as the largest, most complex machine ever built, involves an intricate network of power lines crisscrossing neighborhoods and open country over mountains and through towns. This grid has evolved over the last century to supply customers with safe, reliable, and affordable electricity.
The tricky thing about electricity is that it must be used, or moved to where it can be used, the second it's produced. It generally can't be stored like water or gas. What's more, electricity moves at the speed of light along the path of least resistance. This basic principle calls for a carefully monitored, intricate system to move it 24 hours a day.
The major cause of outages is damage caused by fallen trees, whether they are blown down by high winds or weighed down by snow and ice. That's why your electric cooperative has an ongoing right-of-way maintenance program cutting and trimming trees to keep a power line's path as clear as possible.
We take tree trimming very seriously, constantly trimming our territory on a four-year cycle. We often receive a lot of flack from our membership about how much we trim but we need to trim a tree for four years' worth of growth. Tree trimming is our largest cost for the Cooperative, but worth it to help prevent more frequent outages. You can learn more about our vegetation management program here.
Restoring power after a major outage is a big job that involves much more than simply throwing a switch or removing a tree from a line. The main goal is to restore power safely to the greatest number of members in the shortest time possible.
We typically restore power after a major disaster or storm, such as an ice storm, hurricane, or tornado following the steps listed below. While power restoration priorities may differ between difference co-op electric systems, repairs generally follow a plan similar to the one shown here.
During a major outage, other cooperatives in areas not affected by the storm are prepared to help. They send lines crews to assist with restoring power. A small, localized storm may mean mutual aid crews don't have to come from too far of a distance away. When the storm is of large scale significance, like a hurricane, the mutual aid crews may be coming from a much further distance, requiring a day or even two, just to reach the affected co-op.
STEP 1

Transmission lines supply power to one or more transmission substations. These lines seldom fail, but they can be damaged by falling trees or storms. Tens of thousands of people could be served by one high-voltage transmission line, so if there is damage here it gets attention first.

STEP 2

A co-op  may have several local distribution substations (Sussex REC has six), each serving a thousand or more members. When a major outage occurs, the substations are checked first. A problem here could be caused by failure in the transmission system supplying the substation. If the problem can be corrected at the substation level, power may be restored to a large number of people.

STEP 3

Many distribution supply lines (sometimes referred to as circuits or "three-phase lines") are checked next if the problem cannot be isolated at the substation. These supply lines carry electricity away from the substation to a group of consumers (usually numbering in the hundreds), such as a town or main highways and roads. When power is restored at this stage, all consumers served by this supply lines could see the lights come on, as long as there is no problem farther down the line.

STEP 4

The final supply lines, called tap lines or "single-phase lines," carry power to the utility poles or underground transformers outside houses or other buildings. Line crews fix the remaining outages based on restoring service to the greatest number of members.

STEP 5

Sometimes, damage will occur on the service line between your house and the transformer on the nearby pole. This can explain why you have no power when your neighbor does. Your co-op needs to know you have an outage here, so a service crew can repair it.
Local conditions may lead to deviations and variations in this restoration plan. Every restoration has its own characteristics. Multiple crews are typically working on multiple areas simultaneously. Damage in one area may not be as severe as in another area. This can result in one area that has damaged three-phase lines appear to get restored after an area that has only a few single-phase lines down. Timing of repairs has an effect as does ease or difficulty of repairs and what is involved with the repair.
Members themselves (not the co-op) are responsible for damage to the service installation at the home or building, which includes the service entrance cable and the meter pan on the building. Your co-op can't fix this and you will need to call a licensed electrician to make the necessary repairs first. Then, the co-op will come and re-establish the connection to the service wire from the pole.
It's a big job, but our line crews are up to the challenge. If there is an outage in your area, you can help crews pinpoint damage by calling us at 877-504-6463. Even if your neighbors have already called, every bit of information we have helps get the power flowing smoothly again.
To keep up with our restoration efforts, keep an eye on our Outage Map for a good visualization of where outages are in our territory, how many people are affected, and where crews have been assigned. For more detailed updates on an outage situation, follow our Facebook and Twitter pages, or join our email list. During major outages, we continuously post updates to keep our members informed as the situation develops. We will also post outage updates to our SREC NOW page during major ongoing outages, where members can find a collection of each update as well as other important information, like locations of local warming shelters.
Outage Center
For 24/7 outage reporting, please call 1-877-504-6463