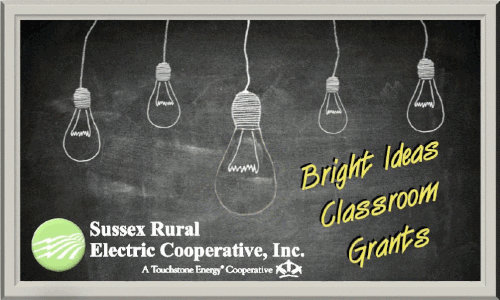 Bright Ideas Classroom Grant
At Sussex Rural Electric Cooperative we recognize that the children of today are the members of tomorrow. The Bright Ideas Classroom Grant Program was designed to support our future members by helping their teachers better afford innovative and effective educational curriculum that is not covered by traditional school financing. Individual teachers can apply for grants up to $500. Each year, SREC will award a total of $1,000.00 through this grant program. The education-related programs must benefit SREC members or student populations within SREC's service area.
Eligible educators in public and private schools, pre-K through 12th grade, must be able to prove membership benefit. It is not required for teachers or schools to receive electric service from SREC. Grants can be awarded for projects in any discipline, but must be energy or cooperative related. Projects can range from the study of electricity in science class, the cooperative business model in business class, or the history of American rural electrification in history class. The grant is not limited to these topics. Teachers are encouraged to get creative!
Grant Applications are accepted every year from the first week of March until the end of April.  Grants will be awarded at our 2020 Annual Meeting at the beginning of June (date pending).
Click here for a list of eligible schools